Ken Burns - 2016
Young Ken Burns and Friends - 1960's
1974 Summer School
1974 Andre Segovia Summer School in Santiago de Compostela. Jose Luis Rodrigo (front row centre right), Jose Tomas (front row centre left), Ken Burns (rear row).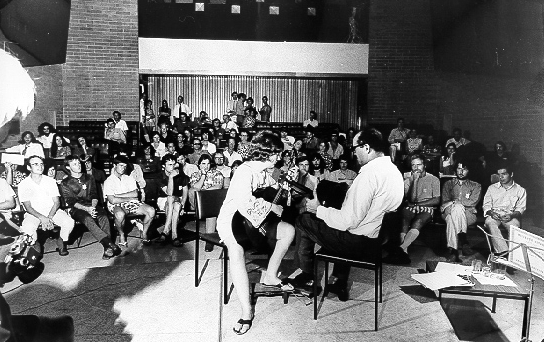 Alirio Diaz Master Class, Melbourne - 1971
Image courtesy of Monash University Archives.
Ensemble of Ken's Conservatorium Student - 1980's
Ensemble comprising Doug Brasier, John Garick, Brook Green and Phillip performing at a Sydney venue.
James Raxworthy and Ken Burns - 1990's
James and Ken performing a duet for James's final exams in the Batchelor of Music Performer's Degree at The University of NSW.
José Luis González - Historic Footage
Jose Luis Gonzales was a protege of Andre Segovia and Ken's first formal teacher.